Yoga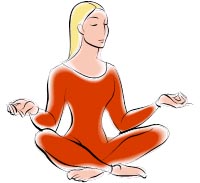 'Be Relaxed and Energised with Yoga'
with Sue Storrar (Yoga Scotland Registered Teacher)

The term 'yoga' means the yoking together of the body, mind and spirit so the whole person can stay fit, focussed and relaxed.

Yoga practice concentrates on living well today as regrets over the past are useless, as are fantasies about the future. Today is the reality you can do something about, today you can act.

The yoga sessions held in the Church Hall on Thursday evenings from
7 – 8.15pm have stopped for the summer.
They will restart on Thursday 24th September.

We are looking for some new participants to join our yoga sessions so, if you would like to have some gentle relaxing exercise, then please come along and you will be made very welcome.

Sue Storrar

OM Shanti – Peace be with you all.

Please contact Sue Storrar (01324 840757) for more details.