What's On Page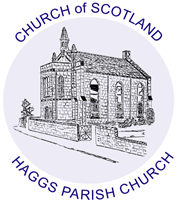 Minister: Rev. Raheel Arif

Tel: 01324 819149

The Spring 2020 edition of the LINK Magazine is now available on the Link Magazine page.

February 2020
Sunday 2nd February - Morning Service and will include the Sunday Club - 9.45 am
This will be followed by a Session meeting in the MacLean Hall
Sunday 9th February - Morning Service and will include the Sunday Club - 9.45 am
Sunday 16th February - Morning Service and will include the Sunday Club - 9.45 am
Sunday 23rd February - Morning Service and will include the Sunday Club - 9.45 am
Blythswood Shoe boxes appeal.
Thank you all for the generous donation of 45 boxes from Haggs Church.
These boxes may be all that a child or adult gets for Christmas.
Merry Christmas and thanks.
Moira Martin
CrossReach Christmas Angel Appeal/Lunch
A big THANK YOU on behalf of CrossReach Guardian Angel/150th Anniversary Appeal.
They were delighted to receive the magnificent sum of £550.
Well done Haggs Church members - Maisie Mortimer
Below a selection of pictures displaying our tribute
to the men and women involved in WW1 and WW2
Prayer Tree

Our Prayer Tree is positioned in the vestibule at the entrance to the church.
Requests for prayers can be written on the labels provided, then hung on a branch,
these will be forwarded to our locum minister to be included in future services.
Hearts can also be placed on the tree in memory of loved ones.
HAGGS KNITTERS
Just before Christmas two large boxes and numerous bags of beautiful knitted and crocheted jumpers, hats and blankets were passed to the charity for distribution by the Orphan Care programme in Livingstonia, Malawi. Word was received early in January that everything had been taken to Dundee for loading into the next container going to Africa.
So thank you for all your efforts, please keep up the good work and keep those fingers active! We will collect in the finished work twice a year in the future – at the end of June and December.
So.......keep knitting!!
Haggs Parish Church – Charities Supported 2018
Thank you all for being so generous & helping your neighbours
Bible Scotland £ 63.15
Blythswood Trust Shoe Boxes
Knitting for Malawi Hats, Jumpers & Blankets
WMN (Build a House) £1450.41
Christian Aid £2520.00
Falkirk Food Bank Food
MacMillan Cancer Care £ 600.00
Poppy Scotland £ 69.65

Souper Sunday (HIV Project) £ 215.40
Vine Trust £ 437.00
Strathcarron Hospice £ 725.00
UNICEF (Jar of Grace) £215.00
Total £6295.61
A Message from your Treasurer
On behalf of the Congregational Board may I thank you for your continued support to Haggs Parish Church. During the current vacancy it is important that we keep our finances in order and we need you to allow us to do this. Can I just remind you of the different ways in which you can make your offering?
By Weekly Freewill Offering envelopes. Please see the Treasurer Marion Campbell if you wish to have envelopes or ask your elder.
If you pay Income Tax please Gift Aid your offering – this allows Haggs Church to claim back the tax which you have already paid (approx. 20% more – at no extra cost to you). Please see Murray McCheyne or Marion Campbell for a form to complete (this does not tie you to a fixed amount or a fixed term but allows the Church to claim back tax on however much you give) or again ask your elder. On average over the last few years we have recovered between £5000.00 and £6000.00 per year from Gift Aid. Without this money would not have been able to pay all our bills…………..so please – the more we can claim in Gift Aid the more money we can get back.
Either of the above methods can be made by Standing Order directly from your bank account to the Church's bank account. Saves the number of WFO envelopes we have to buy and saves you remembering to make up the Sundays you have missed for whatever reason. It is really important to Haggs Church that you do make up the weeks you have not managed to get to Church so that we have a more accurate assessment of what monies are coming in to be able to budget for the expenditure.
We are most grateful for your generosity to all the charities we support – for a small congregation you do give very willingly to others – so thank you.
Thanks for all your loyalty and support and PLEASE ………don't change!
Marion