What's On Page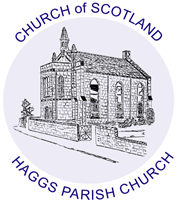 Haggs linked with Denny Old is now a vacant charge
and is able to call a minister without restriction.
Details on the Vacancy and Parish Profile
can be accessed on the Vacancy page

Locum Minister: Rev. Derek Gunn BD
He can be contacted on
01324 610349
Interim Moderator: Rev. Aftab Gohar
He can be contacted on
01324 482109
email: rev.aftabgohar@yahoo.co.uk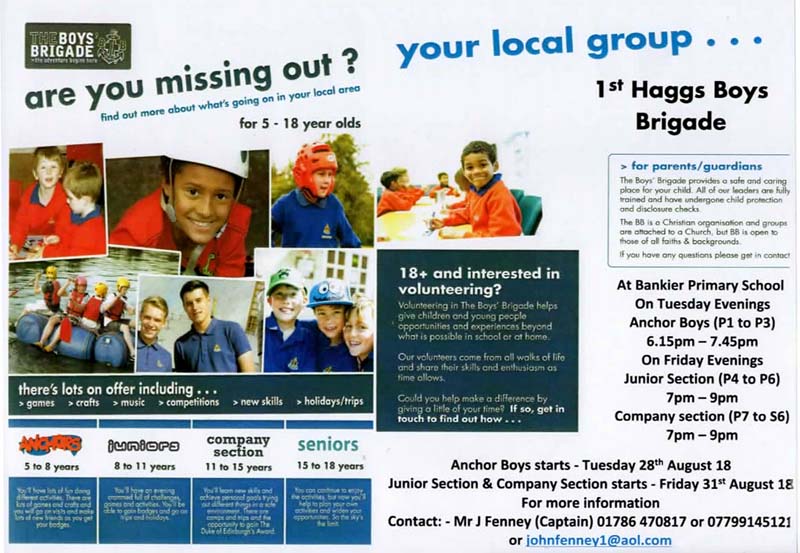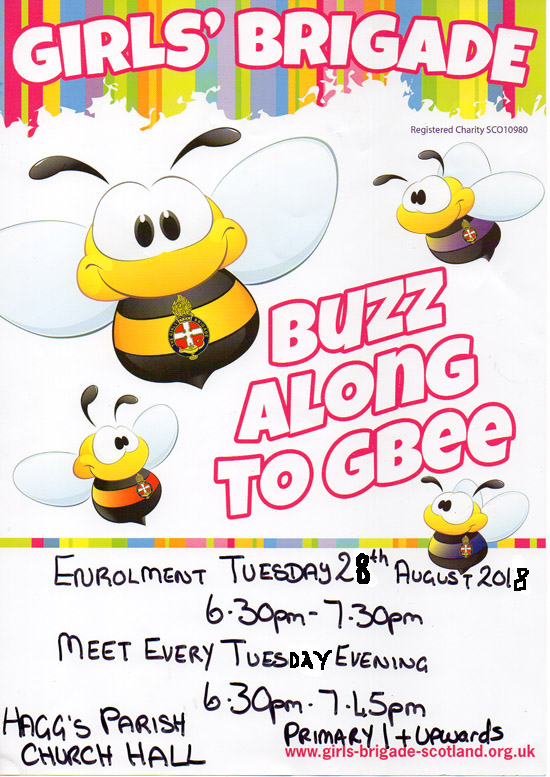 AUTUMN LINK MAGAZINE now available to download on the Link Magazine Page
Note: that from Sunday 7th October 2018 - Sunday Service Start Time changes to 11.15 am
October 2018
Sunday 7th October - Communion Haggs 11.15 am - Sunday Club in Church Hall
Session meet at 10.50 am in the MacLean Hall
Sunday 14th October - Service Haggs 11.15 am which will include the Sunday Club
Sunday 21st October - Service Haggs 11.15 am which will include the Sunday Club
Girls Brigade and Boys Brigade enrolment service
Followed by a soup and sandwich lunch for Christian Aid
Sunday 28th October - Service Haggs 11.15 am which will include the Sunday Club
Outreach

Over the past year we have been fortunate to have access to the three local primary schools in our parish.
Myself, Jean Duff from Denny Old and now the Rev Gunn take part in the school assemblies where we give a Christian story through fun and interaction with the pupils.
We are grateful to the schools for this opportunity to do this and look forward to our end of term theme with the title "The big Picnic"
Moira Martin
Prayer Tree

Our Prayer Tree is positioned in the vestibule at the entrance to the church.
Requests for prayers can be written on the labels provided, then hung on a branch,
these will be forwarded to our locum minister to be included in future services.
Hearts can also be placed on the tree in memory of loved ones.
HAGGS KNITTERS
Just before Christmas two large boxes and numerous bags of beautiful knitted and crocheted jumpers, hats and blankets were passed to the charity for distribution by the Orphan Care programme in Livingstonia, Malawi. Word was received early in January that everything had been taken to Dundee for loading into the next container going to Africa.
So thank you for all your efforts, please keep up the good work and keep those fingers active! We will collect in the finished work twice a year in the future – at the end of June and December.
So.......keep knitting!!
Haggs Parish Church – Charities Supported 2017
Thank you all for being so generous & helping your neighbours
Blythswood Trust 64 Shoe Boxes
Knitting for Malawi Hats, Jumpers & Blankets
Christian Aid £2,585.00
Falkirk Food Bank £ 140.00 & Food
MacMillan Cancer Care £ 582.00
Poppy Scotland £ 86.00

Souper Sunday (HIV Project) £ 162.04
Vine Trust £ 193.15
UNICEF (Jar of Grace) £ 370.45
Total £4118.64
A Message from your Treasurer
On behalf of the Congregational Board may I thank you for your continued support to Haggs Parish Church. During the current vacancy it is important that we keep our finances in order and we need you to allow us to do this. Can I just remind you of the different ways in which you can make your offering?
By Weekly Freewill Offering envelopes. Please see the Treasurer Marion Campbell if you wish to have envelopes or ask your elder.
If you pay Income Tax please Gift Aid your offering – this allows Haggs Church to claim back the tax which you have already paid (approx. 20% more – at no extra cost to you). Please see Murray McCheyne or Marion Campbell for a form to complete (this does not tie you to a fixed amount or a fixed term but allows the Church to claim back tax on however much you give) or again ask your elder. On average over the last few years we have recovered between £5000.00 and £6000.00 per year from Gift Aid. Without this money would not have been able to pay all our bills…………..so please – the more we can claim in Gift Aid the more money we can get back.
Either of the above methods can be made by Standing Order directly from your bank account to the Church's bank account. Saves the number of WFO envelopes we have to buy and saves you remembering to make up the Sundays you have missed for whatever reason. It is really important to Haggs Church that you do make up the weeks you have not managed to get to Church so that we have a more accurate assessment of what monies are coming in to be able to budget for the expenditure.
We are most grateful for your generosity to all the charities we support – for a small congregation you do give very willingly to others – so thank you.
Thanks for all your loyalty and support and PLEASE ………don't change!
Marion
3 YEARS ON....
HOW NEPAL IS REBUILDING FOLLOWING EARTHQUAKE DISASTER.
Just before noon on Saturday 25th April 2015 the first earthquake struck Nepal, followed by subsequent shocks and landslides. These events lasted only for seconds, yet caused such devastation that they changed lives forever.
3 years on... I was selected to join a small Scottish group that travelled to Nepal to witness the rebuilding and regeneration work. This work has been possible due to the generous response to the 2015 emergency by Church of Scotland congregations; sending £130,000 to United Mission to Nepal (UMN) through the 'Let us Build a House' charity.
I spent 10 days travelling in the Dhading, a rural area to the north of the capitol, Kathmandu, attending business meetings and seeing how the money has been spent to rebuild schools and clinics, provide training in building, water purification and farming techniques. UMN also works with local partners on projects to improve education and self-governance so the villagers will be less vulnerable to natural disasters in the future.
I went trekking for four days to Nth. Dhading, in the foothills of the Himalayas, where there were no roads and villages were not even recorded on maps. Some villages in this area had been swept away in landslides following the earthquake; killing mainly the old and young, and leaving many homeless. The whole valley had been thick with heavy dust and it took 20 days for them to receive any outside aid; when a helicopter eventually landed on the hillside to bring much needed emergency supplies. Self-help was therefore essential as communities worked together to rebuild their homes, schools, water supplies and reclaim their terraced fields so a simple life could be re-established in this harsh living environment. The villagers welcomed us into their homes and were keen to tell how the aid they had received had given them hope, and the optimism to carry on. Their Christian faith also sustained them in these troubled times and they welcomed the opportunity to share worship in their partially reconstructed churches.
It was a privilege to walk alongside the Nepalese people and to experience, even for a few days, the tough lives that they endure, in this beautiful rugged environment. Our trip highlighted the importance of International Aid to transform the lives of those less fortunate than ourselves and to achieve the UMN vision of 'Fullness of life for all, in a transformed Nepali society.'
To mark the 3rd anniversary of the Nepal earthquake disaster I organised a fund-raising event on Saturday 28th April 2018 at Denny Old Parish Church halls entitled: 'KEEP CALM & REBUILD'. Local fitness and well-being practitioners donated their time and talents to lead Zumba, Yoga and Highland Hustle and Massage sessions. Church members and friends also organised a raffle and delicious home-baking and refreshments. A magnificent total of £1,237.92 has been raised from the 'Soup & sandwich' lunch, 'Spring clean' clothes collection, 'Keep Calm & Rebuild' fund raising day and from generous donations. All proceeds from the event will be sent to support the rebuilding projects in Nepal. Thanks to everyone at Haggs Church for their tremendous support.
Sue Storrar.