What's On Page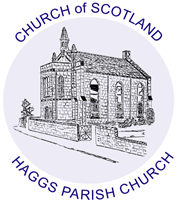 Haggs linked with Denny Old is now a vacant charge
and is able to call a minister without restriction.
Details on the Vacancy and Parish Profile
can be accessed on the Vacancy page
Locum Minister is Rev. Sandra Mathers
Sandra can be contacted on
01324 872253
Mr David Nicholson is the Interim Moderator
David can be contacted on
01236 732260
DNicholson@churchofscotland.org.uk
June 2017
Sunday 25th June - Service Haggs - 11.15 am - which will include the Sunday Club Prize Giving
July 2017
Sunday 2nd July - Service Haggs - 11.15 am
Sunday 9th July - Service Haggs - 11.15 am
Sunday 16th July - Service Haggs - 11.15 am
Sunday 23rd July - Service Haggs - 11.15 am
Sunday 30th July - Service Haggs - 11.15 am
Denny Old Church Holiday Club
Held in Denny Old Church Hall

Moses No! No! No!
14 August 2017 – 10.00 to 12.00
15 August 2017 – 10.00 to 12.00
16 August 2017 – 10.00 to 12.00
17 August 2017 – 10.00 to 12.00
18 August 2017 – 10.00 to 12.00
20 August 2017 – 10.00 to 12.00
Free to all, open to all ages, from 0 – 100.
Keep fit, crafts, music, dvd, puppets and parachute.
A Message from your Treasurer
On behalf of the Congregational Board may I thank you for your continued support to Haggs Parish Church. During the current vacancy it is important that we keep our finances in order and we need you to allow us to do this. Can I just remind you of the different ways in which you can make your offering?
By Weekly Freewill Offering envelopes. Please see the Treasurer Marion Campbell if you wish to have envelopes or ask your elder.
If you pay Income Tax please Gift Aid your offering – this allows Haggs Church to claim back the tax which you have already paid (approx. 20% more – at no extra cost to you). Please see Murray McCheyne or Marion Campbell for a form to complete (this does not tie you to a fixed amount or a fixed term but allows the Church to claim back tax on however much you give) or again ask your elder. On average over the last few years we have recovered between £5000.00 and £6000.00 per year from Gift Aid. Without this money would not have been able to pay all our bills…………..so please – the more we can claim in Gift Aid the more money we can get back.
Either of the above methods can be made by Standing Order directly from your bank account to the Church's bank account. Saves the number of WFO envelopes we have to buy and saves you remembering to make up the Sundays you have missed for whatever reason. It is really important to Haggs Church that you do make up the weeks you have not managed to get to Church so that we have a more accurate assessment of what monies are coming in to be able to budget for the expenditure.
We are most grateful for your generosity to all the charities we support – for a small congregation you do give very willingly to others – so thank you.
Having an old Grade 2 listed building means large maintenance bills sometimes and as you will be aware the front section of the organ side of the Church is at present closed off because the cornice is in a dangerous condition and in need of replacement which of course means a large cost so please be your usual supportive selves when we are fundraising.
Thanks for all your loyalty and support and PLEASE ………don't change!
Marion
Christian Aid
Christian Aid Week is from 14th – 20th May and we are looking for collectors to help with the door to door collection.
The Christian Aid working group have decided to concentrate our fund rising to the Kelpie Canter sponsored walk on 30th September.
However if anyone wants to walk on the Bridge Walk again this year, on 22nd April, then Sue Storrar has sponsor forms.
Thanks for your continuing support.
Charitable Donations
As a congregation we donated to the following charities during 2016:
Collections for Third Parties

£

Vine Trust

292.00

Christian Aid

Door Collection & Bridge Walk £2078

704.00

Poppy Scotland

43.00

Bible Scotland

55.00

Falkirk Food Bank

And Food

135.00

Gideons

66.00

MacMillan Cancer Care

475.00

Strathcarron Hospice

208.00

Build a House

33.00

Blythswood Care

Shoe Boxes

-

Unicef

231.00

Crossreach

27.00

2,269.00