What's On Page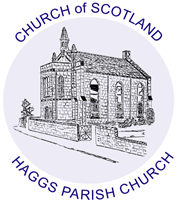 Haggs linked with Denny Old is now a vacant charge
and is able to call a minister without restriction.
Details on the Vacancy and Parish Profile
can be accessed on the Vacancy page
Locum Minister is Rev. Sandra Mathers
Sandra can be contacted on
01324 872253
Sandra will be on holiday from Monday 20th March till Monday the 27th of March.
Anyone requiring the services of a Minister please contact
the Rev. Dr Jean Gallacher on 01324 824540
Mr David Nicholson is the Interim Moderator
David can be contacted on
01236 732260
DNicholson@churchofscotland.org.uk
March 2017
MONDAY 13th MARCH - SCOTS NIGHT in Dunipace Church halls at 7.30 pm
Light Supper & Entertainment by the Gargunnock Songsters
Tickets £5 each - All Welcome
Sunday 19th March - Joint service with Denny Old - 11.00 am at Denny Old.
There will not be a service at Haggs .
Sunday 26th March - Service Haggs - 11.15 am - which will include the Sunday Club
Monday 27th March - Bunny Drive 2.00 pm Church Hall
April 2017
Sunday 2nd April - Service Haggs - 11.15 am - which will include the Sunday Club
Palm Sunday 9th April - Service Haggs - 11.15 am - which will include the Sunday Club
Followed by a Soup and Sandwich Lunch in aid of Falkirk Foodbank
Holy week Services all at 7.30 pm
Monday 10th April - Denny Old
Tuesday 11th April - Denny Westpark
Wednesday 12th April - Denny Baptist
Thursday 13th April - Bonnybridge
Friday 14th April - Dunipace
Good Friday 14th April - Walk of Witness round the Denny Churches
will start from Denny Old at 10.30 am.
Easter Sunday 16th April Gala Park Outdoor Service 8.30 am
Followed by Easter morning breakfast at 9.00 am at Dunipace Church
Sunday 16th April - Easter Sunday Service Haggs Church at 11.15 a.m.
which will include the Sunday Club
Sunday 23rd April - Service Haggs - 11.15 am - which will include the Sunday Club
Sunday 30th April - Service Haggs - 11.15 am - which will include the Sunday Clublude the Sunday Club
Teas and Coffees served in Church Hall after morning service
SESSION CLERKS
Murray McCheyne and Sue Storrar continue to share the role of Session Clerk, both acting as Clerk Pro-tem. This situation works well with duties shared between the two clerks.
We thank Brian Richmond and Jack Dunn for continuing to share the role Clerk to the Congregational Board. Thanks to Marion Campbell for her continuing diligent work as our treasurer.
Colin Meek has relinquished the role of property convener and we thank him for his continued diligent and practical work in looking after our church buildings. Jack Dunn is presently fulfilling the property convener role on a pro tem basis.
Three organists from Denny Old congregation provide our church music on a rota basis and we thank them for their continued support Sunday by Sunday and at other special services.
Our roll of church members at the 31st December 2016 was 227 with 76 on the supplementary roll. During 2016 five members received a certificate of transfer on leaving the area, eight members died and two were added to the supplementary roll. No new members were added to our roll in the past year. The Kirk Session comprising 25 elders presently led by our Interim Moderator, Mr David Nicholson and supported by our Locum Minister Rev. Sandra Mathers continues to plan and direct church life.
In our ongoing vacancy situation our Interim Moderator chairs our Kirk Session and Congregational Board meetings and guides us through procedural matters relating to our linkage with Denny Old Parish church. Rev. Sandra Mathers leads our worship with our service time this year at 11.15 a.m. and also caters for pastoral needs in the community.
Our linkage with Denny Old has developed over the past year through joint services. An invitation to Denny Old Seniors Christmas lunch was greatly appreciated and a number Haggs folk enjoyed an afternoon of fine fare and entertainment.
A joint team from Denny Old and Haggs has been working together to find a new manse for our linked charge and, after looking at a number of possibilities, arrangements have been made to purchase a 5 bedroom detached house in Singers Place, Dennyloanhead.
Both the existing Denny Old and Haggs manses have now been sold so we are able to purchase the new manse without the need for a mortgage or bridging loan.
As our Nominating Committee actively seeks a minster for our linked charge the life of our church continues. We thank everyone who supports our church at Haggs and also contribute to our outreach projects including Christian Aid, Vine Trust, Church of Scotland HIV project, Food Bank and many other worthy good causes.
As ever, we must all rise to the challenges that come before us in our journey of faith for our linked churches of Denny Old and Haggs.
Murray McCheyne and Sue Storrar (Session Clerks, pro-tem)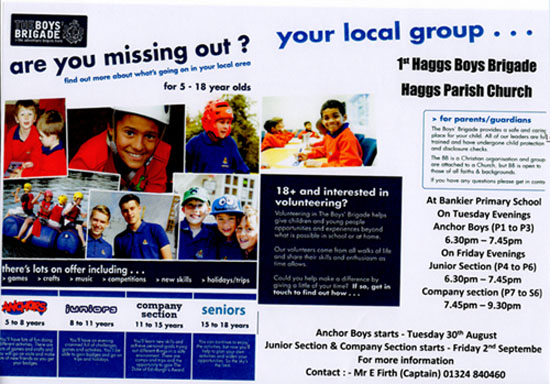 Charitable Donations
As a congregation we donated to the following charities during 2016:
Collections for Third Parties

£

Vine Trust

292.00

Christian Aid

Door Collection & Bridge Walk £2078

704.00

Poppy Scotland

43.00

Bible Scotland

55.00

Falkirk Food Bank

And Food

135.00

Gideons

66.00

MacMillan Cancer Care

475.00

Strathcarron Hospice

208.00

Build a House

33.00

Blythswood Care

Shoe Boxes

-

Unicef

231.00

Crossreach

27.00

2,269.00