Minister's Page
Haggs Parish Church is a Vacant Charge


Locum Minister:
Rev. Derek Gunn BD
01324 610349
Pen Picture: Rev Derek Gunn
I have grown up in the Church and as a youngster our local Church - Edinburgh:Richmond Craigmillar - was the centre of our activity with youth activities and particularly for me a life long involvement with the Boys' Brigade. I was ordained as an Elder in that Church at the age of 21 in 1971.
After school and university, I worked for Post Office Telephones (later BT) before becoming the full time BB Field Officer for North Scottish District for almost four years covering the old Highland and Grampian Regions, the Western Isles, Orkney and Shetland leaving that to train for the Ministry at St Mary's College, St Andrews.
I served a probationary year 1985-86 at Edinburgh: Corstorphine Craigsbank before being Ordained and Inducted to Falkirk Bainsford on 28 May 1986. Having already been involved with the Scottish Prison Service as a part-time Chaplain, I was selected through their direct entry scheme to train and work in the operational grades as an Assistant Governor at Glenochil Prison. After working in a variety of roles, I took early enhanced retirement during reorganisation. I was called to be Minister of Airdrie Clarkston Parish in December 2009 on a reviewable tenure from which I retired on 30 September 2017 leaving them free to call a minister to an unrestricted single charge.
In addition to the Locum Post at Denny Old and Haggs I am also on Presbytery's Superintendence Committee and I am currently Battalion Chaplain to Airdrie, Coatbridge and District Battalion. On 10 February, I was honoured to accept the invitation of The Boys' Brigade Scotland Committee and become Chaplain for the Boys' Brigade in Scotland.
While working in Post Office Telecomms, I met my wife, Pat, and we will celebrate 40 years of married life this year. We have three children: David in Stockholm; Caroline married to Graeme with our two grandchildren, Alistair and Emily in Stirling; and Susan who lives in Grangemouth.
Derek Gunn
THOUGHTS FROM A FELLOW TRAVELLER
I am delighted, as your new Locum Minister, to share a few thoughts with you as I join you as a fellow traveller on the journey of faith. I write this just after being at several Burns Suppers and it struck me that some words of Burns are quite appropriate at this time.
Burns wrote, "O wad some power the giftie gie us, tae see oursels as ithers see us!" As I come to you as locum, I can take a fresh perspective of congregational life. The outstanding impression that I have is that of "welcome" not just for me but for all. I see two congregations who are seeking to look to the future but are perhaps a little disheartened after being in vacancy for a period of time. I see strengths in people who are working hard to keep things going and I feel a sense of challenge for myself in assisting that.
It is my hope and prayer that I can offer enthusiasm and desire to partner with you for however long I am with you. My hope is that I find myself redundant as you call a new minister. In the meantime, I promise to do all that I can to enthuse, encourage and share with you not as an outsider but as people together in relationship seeking to advance the work of the kingdom of Christ.
If you like what I do tell me: it might make it better! But if you don't like things that I do, please, please tell me before telling anyone else!!! I am not here to be THE minister, I am here to work with all of you in your own ministry in Jesus' name.
As we look towards Easter, let us not just talk about new life offered through Jesus risen from the dead, let us put our energies into more and more new life in our Church, our Congregation, our community, and into ourselves.
May we all be richly blessed with the Easter good news that Jesus lives and is made known through our love, commitment and service.
Trusting that I can become your Minister and friend,
Derek
Interim Moderator:
Rev. Aftab Gohar
8 Naismith Court
Grangemouth
FK3 9BQ

01324 482109
rev.aftabgohar@yahoo.co.uk
About the Reverend Aftab Gohar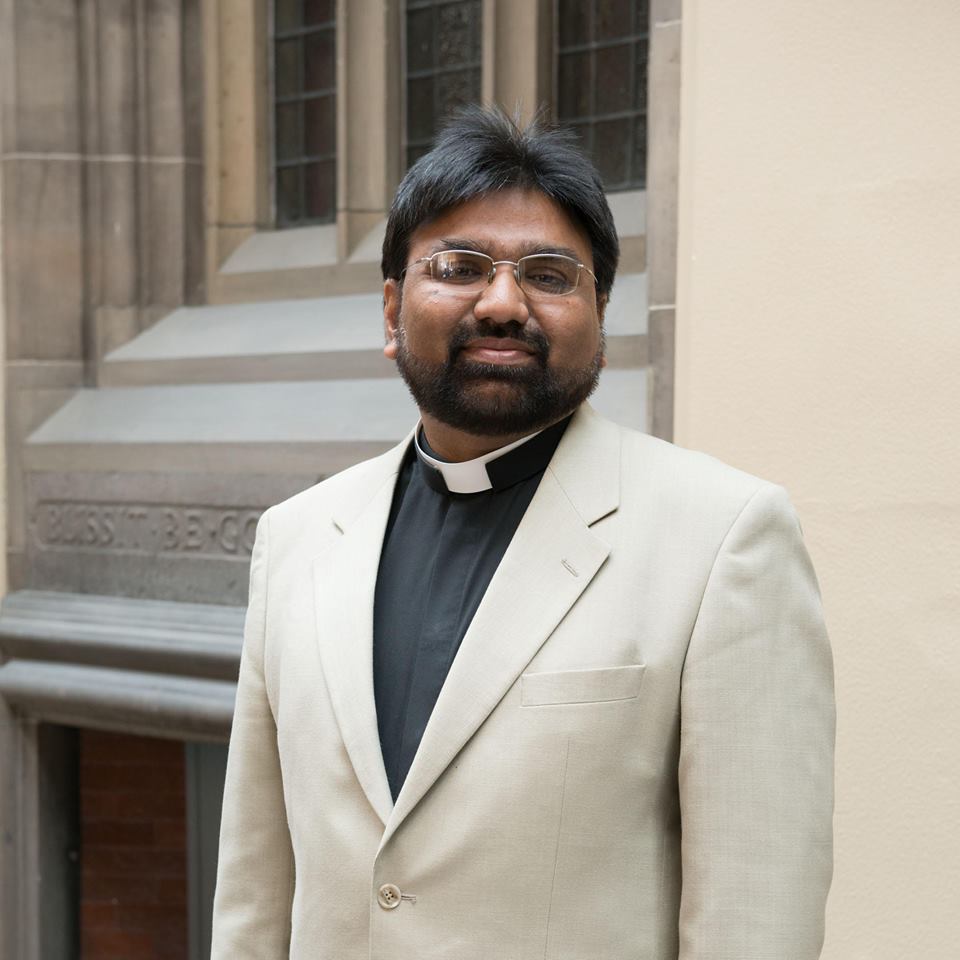 Aftab is married with two sons. He was born in Peshawar (Pakistan), received his M.A degree from Peshawar Univeristy, the went to Karachi for Theological Studies and received his M.Div degree for St. Thomas Theological College.
Aftab was ordained as a minister in November 1995 and served in the Church of Pakistan for 13 years. During that time he came to Edinburgh (Scotland) for further studies in 1998-99. In 2008 he came to Scotland to serve in the Church of Scotland and was sent to Grangemouth (Abbotsgrange Parish Church) for his 15 months familiarisation period, which he completed successfully and was called to serve in the same parish. He was inducted as Minster of the parish in February 2010. Since then he has been serving this parish
Along with his parish ministry he serves as Chaplain for ATC 1333 (Grangemouth Spitfire) Squadron, and Deputy Wing Chaplain for ATC West Scotland Wing.