Sunday Club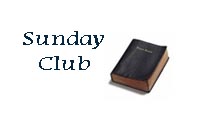 A note from the Sunday Club
Seven young people attend on a regular basis with another four coming along occasionally as visitors with Grandparents.
September and October our theme was Roots, Shoots and Fruits when we read or were told different stories, activities and readings from the Bible. The two older children now read from the Bible every week as we encourage them to find out more about Gods' Holy Word.
The theme for November was Remember! Why we wear a poppy? We talked about heroes and who they thought was a hero. We remember the people who have neither home nor country and have walked a long way to find shelter. What would you take on a picnic?
In December, "The Gift" a nativity play, was performed when all the members of the Sunday club took part. The children were a credit to Haggs church and to the leaders. This was our gift to the congregation.
A new year and we focus on new beginnings. Building on a strong foundation was enjoyed by the Sunday club as they made "bricks" and were involved in the children's address with the congregation.
Thanks are due to Shona, Moira, Libby, to the Session for their support and congregation for their patience and a warm welcome to Judith our new helper .
We are grateful for the continued encouragement from our locum minister Sandra Mathers.
Please keep our young people in your prayers.
Shona, Moira,Libby and Judith.
New Banner (Winter)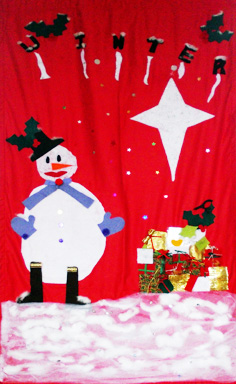 The Winter Banner was completed and given to the Church at the Christmas Gift Day Service
This is the fourth Banner made by the young people of our church and now hang in the MacLean Hall
The other three banners are shown below
'O what can little hands do to please the King of Heaven'