Girls Brigade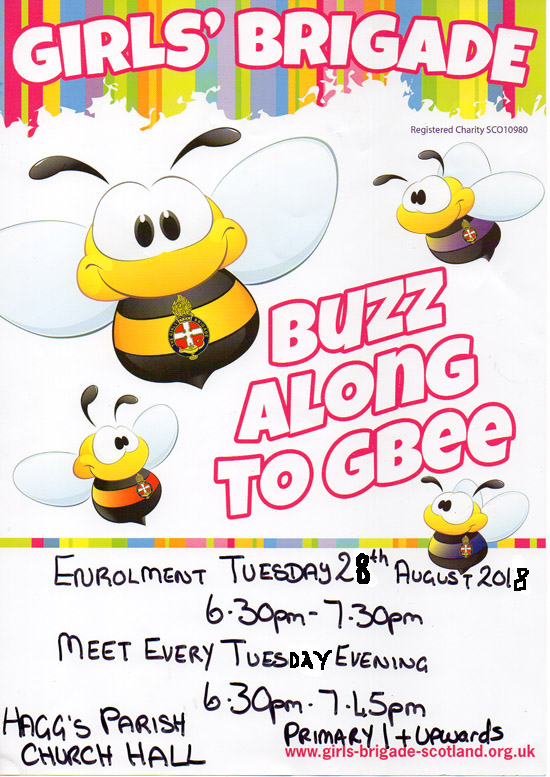 1st Haggs Girls Brigade
2017/2018 saw me Shona Laird take over the role of Captain, and I'm pleased to say we have had a very successful year, with new members joining throughout the year. The final numbers were 16 girls made up of 9 Juniors and 7 Explorers.
Our parent's night ended the year with all the girls' receiving their badges for their hard work completed through the session. Two trophies were awarded to each group for Christian faith and Best Girl. Christian Faith went to Niamh Johnson and Angel Walker and Best Girl's went to Emma Truesdale and Sophie Brown.
Both explorers and juniors entertained the parents and friends with displays showing what they get up to on a weekly basis. Explorers learning about celebrations, incorporating bible reading and arts & craft. Juniors learning mindfulness incorporating building skills using Lego and learning about listening skills.
Lots of fun was had each week with games old and new and a couple of these were shown on the night and BB officers encourage to participate as well.
We look forward to the next session that will start with Enrolment night 28th August 2018 @ 6.30pm – 7.30pm and then from 4th September 2018 6.30pm to 7.45pm. God bless and we hope you all have a truly wonderful summer.
I would like to thank all officers Alan and Shirley-Anne Hobbs, and Chloe Currie for her help during the session whilst working towards her Duke of Edinburgh Award.
Shona