Girls Brigade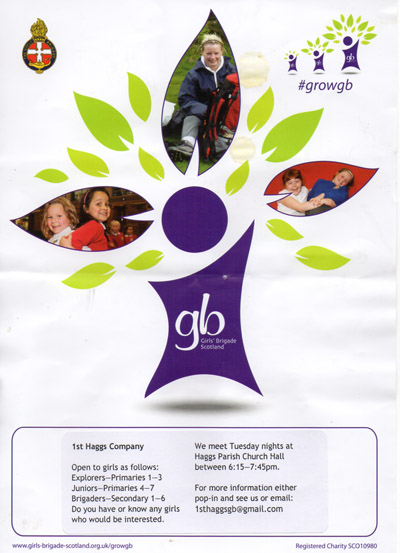 1st Haggs Girls Brigade
What a year 2016/2017 has been! We started off with Captain Shirley-Ann Hobbs, who sadly had to leave us due to family commitments therefore, Julie a Lieutenant stepped in as Acting Captain, and will remain with us until the end of this session. Julie is leaving us to move to 2nd Grangemouth GB Company, as there is no Captain there and they were looking at closing. We have Lieutenant Shona Laird who intends to become our new Captain in the new session for 2017/2018, with Lieutenant Alan Hobbs remaining and Lieutenant Shirley-Anne perhaps re-joining us. Sarah Laird is returning to commence her training to become an officer, we also had Chloe Currie re-join us while she is working towards her Duke of Edinburgh Award. I am hoping to also recruit another helper soon if anyone is interested in helping out on a Tuesday night please contact me.
We have had a busy year with the Explorers numbers settling at 3, and the Juniors at 7 regularly attending, unfortunately we had no Brigaders this year.
The Explorers have been busy and just looking though some of the pictures it's great to see how much they have done, from baking, making friendship bracelets, learning new games, Christmas party, Easter egg hunt to name but a few, they even had a guide dog for the blind (puppy) visit us. The Juniors have been just a busy, entering the annual GB competitions, (it was amazing what they made out of scrap material), and they've learned 'new' traditional games. This is just a snapshot of some of the stuff the girls have done. All church services have been attend by the girls and we are thankful to the parents for all their encouragement and support.
We look forward to the next session that will start on Enrolment night 29th August 2017 @ 6.30pm – 7.30pm and then from 5th September 2017 6.30pm to 7.45pm. God bless and we hope you all have a truly wonderful summer.
I would like to thank all officers and helpers alike, without you this group would not be possible.
Shona