Girls Brigade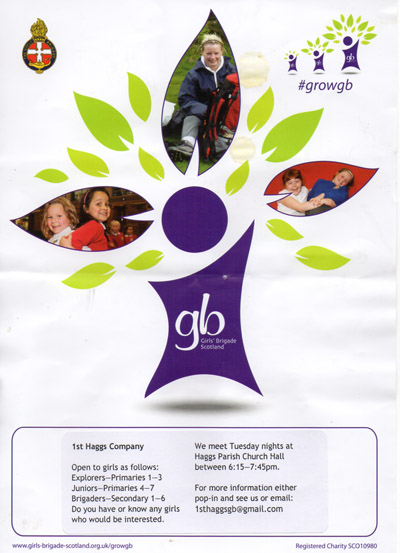 1st Haggs Girls Brigade
We have had eight girls regularly attend the company this year and this session we were delighted to welcome three new Explorers into our ranks. All the new girls have settled in well have been working on the Explorer topic of "Loving and Caring".
The theme looks into six different headers such as family, friends and pets that the girls love and/or care for along with sections of the community that may require extra care or help in daily life.
As well as discussions and posters the girls have made a family tree, enjoyed making friendship bracelets, made some home baking to give as a gift and played some games including the traditional card game of "Happy Families".
The Junior Section has had five girls regularly attend this year with the girls working towards an overall badge made up from four topics: Spiritual, Educational, Physical and Service
From August to January the girls worked on the Service and Educational section of the badge which this year was "Introduction to Humanity" and "All About Bumblebees". The girls are currently working on the other two sections of "Traditional Games" and "Noah's Ark".
Some of the work so far has included making a Bee Hive, Learn about the Red Cross, learning to skip and they are currently learning a play based on Noah's Ark.
Sadly we have no Brigaders at the moment however have one Junior who will be moving up to this section next year and hopefully she can persuade some of her friends to join her.
The officers have been speaking about ways to try and grow the company and if any of the congregation have suggestions we would welcome their idea's.
Julie Arnott
Lieutenant