Boys' Brigade

All section start back after the school summer holidays -
Anchor boys (P1 – P3) starts back on Tuesday 28th of August 2018 at 6.15pm – 7.45pm
Junior Section (P4 – P6) starts back on Friday 31st of August 2018 at 7.00pm – 9.00pm
Company Section (P7 – S6) Starts back on Friday 31st of August 2018 at 7.00pm – 9.00pm
If you know of any boys in these age groups could you please encourage them to come along and try the Boys' Brigade.
John Fenney (Captain)
((johnfenney1@aol.com or 07799145121).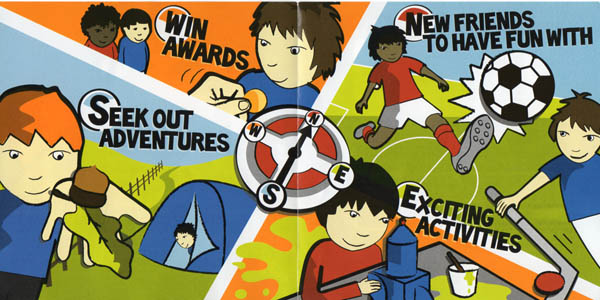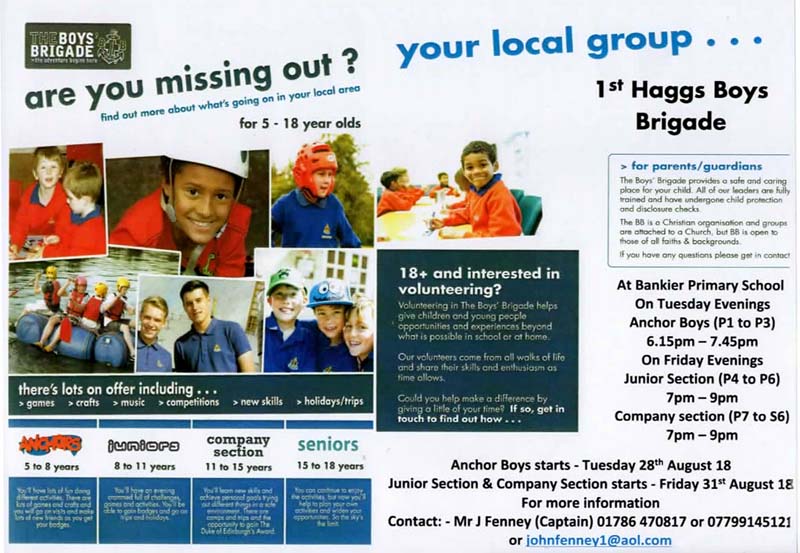 1st Haggs Boys Brigade
Anchor Boys Report
After a bit of a nervous start with only 2 boys on the roll, the numbers quickly grew to the 11 we have now, we have a good mix of P1, 2 & 3's.
Each week there is myself and Mr Kelly as officers and helpers Elaine Cameron and Claire Sherry. We also have three young helpers, Kyle Kelly, Maiya Sherry and Daniel Young who join in games, help with crafts and with snack time.
All the boys have great attendance and come along each week full of enthusiasm, they are always willing to try new activities that are suggested to them which is encouraging and rewarding for officers & helpers
This year we have had several outings which have included a Halloween treat to Zoo Lab in Larbert, all of the boys enjoyed getting to see and hold a lot of different creepy crawlies, we joined with junior and company section for our Christmas night out to Flip Out, which was a huge hit with everyone, then in January we had our Annual Anchor Boys Fun which as always was a great day out, TurnaBBout at the Falkirk Town Hall was cancelled due to the snow and we took part at its Sports day held at Grangemouth Sports Complex as part of the Falkirk & District Centenary Celebrations. All of these have been enjoyed by both the boys and the officers.
Each week we vary the games and crafts focusing on various occasions throughout the calendar year. This we do in an attempt to provide the boys with the necessary life skills and confidence which we hope the boys can develop and take in their adult lives.
Katy Duncan
Officer in Charge
Junior Section Report
The Junior Section has 9 boys made up with primary 4 & 5 no primary 6 boys with average of 8 boys turning up every week.

We entered the Alan Douglas competition with 4 boys representing our company the 4 boys enjoyed the quizzes, puzzles & games. We finished 3rd in the figure marching competition all boys doing really well. For Halloween we went back to Zoolab in Larbert with the Anchor Boys, where all the boys dressed up in fancy dress with prizes for the best dressed. All the boys enjoyed touching & holding a snake, a lizard, a Tarantula spider and other animals.

This year we celebrate 100 years of the junior section, when we had a party with a birthday cake, sweets, biscuits & juice & received a special badge. We played party games and everyone had fun. Our Christmas trip took us to Flip out Trampoline Park in Glasgow with Anchor Boys & Company Section. The boys had a good time jumping on the trampolines. This year's Turnabbout was cancelled due to the weather. We had a Sports day held at Grangemouth Sports Complex where all the boys had a good time meeting and playing games with boys from other companies ending with a Church Parade at Larbert Old Church as part of the Falkirk & District Centenary Celebrations.

Our session will finish with our annual weekend camp at Girvan in the first weekend in June. Thanks to all the Officers and parents for their help and support.
John Fenney
1st Haggs Junior section
Company Section Report
This year has been a very difficult year for the company section. Our numbers at the start of the year were good but have tailed off to 6 boys who regularly attend on a Friday night. Despite our low number we have continued to offer a varied program of activities for the boys.
Our Friday nights consist of our opening parade, drill, tuck shop, classes, games then closing parade and intimations. This year we have attended church for our opening parade, Remembrance and Christmas, and also attended the Church Parade at Larbert Old Church as part of the Falkirk & District Centenary Celebrations. We have one boys going to the Battalion Centenary Camp on Saturday 26th to Sunday 27th May 2018 at Barrwood Campsite.
We have Jason Marr working towards his Queen's badge, which continues our trend of having Queen's Men from the company. Jason has been assisting at Church with the overhead projector with the hymns as part of his badge work.
I would like to take this opportunity to thank all the officers this year for all their hard work as without them we would not have been able to give the boys the variety of activities they have taken part in this year. Thanks to the boys and the parents as we would not have a company section without them.
Alan Hobbs
Officer in Charge
Company Section
Captains Report
As my first year as captain is drawing to an end I have enjoyed it but it's been hard to fill Ernie Firth's shoes. I also thank him for all his advice and help he has given me. Grant Kirkwood has now completed KGV1 Officers Training course. We celebrated 100 years of the Junior Section and we are also celebrating 100 years of the Falkirk Battalion.
We had our Annual display and Parents evening on Saturday 12th may 2018. It was a good night enjoyed by all.
I would like to thank Officers Katy Duncan, Sharon Fenney, Bobby Kelly, Alan Hobbs and Grant Kirkwood and Helpers Elaine Cameron & Claire Sherry and Parents for all their help & support over the year. We wouldn't have a company without you all.
Do you know of any boys who would like to joint our company or any adults (Male or Female) who would like to help please contact myself (johnfenney1@aol.com or 07799145121).

John Fenney Captain 1st Haggs Boys' Brigade