Boys' Brigade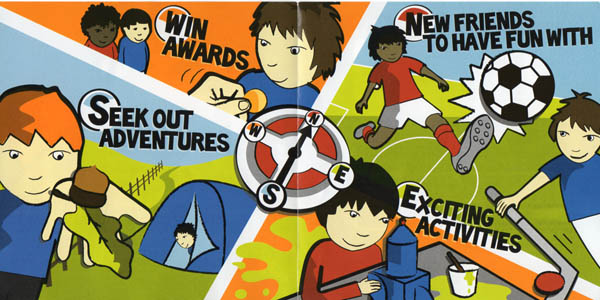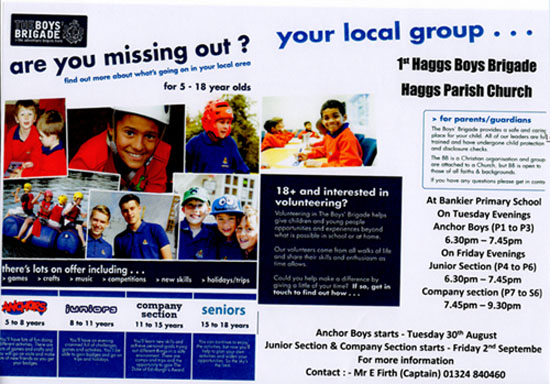 1st Haggs Boys Brigade

Our new session begins on Tuesday 30th August 2016
With the Anchor Boys (P1-P3) at 6.30 to 7.45 pm.
The Junior Section and the Company Section on Friday 2nd September.
The Junior Section (P4-P6) from 6.30 to 7.45 pm.
The Company Section (P7-S6) from 7.45 to 9.30pm.
All sections in Bankier Primary School.
For more information contact Mr E Firth (Captain) 01324 840460)
1st Haggs Boys Brigade
The Anchor Boys have been meeting at Bankier School on Tuesday evenings from 6.15pm to 8pm, we have 5 boys in the section they enjoy themselves doing games, craft work and bible stories. They went to Zoolab in Larbert Halloween party attended the opening service, remembrance service and gift service. For their Christmas outing they went to Adventure Planet and to the Battalion Fun day in January and are looking forward to going to our annual Turnabout service in the Falkirk town hall on Friday the 3rd of March.
The Junior Section also meet at Bankier School on Friday evenings from 6.30pm to 8pm. we have 18 boys in the section this session Friday evening activities include opening service, maze marching, games, craft work and tumbling plus tuck shop. We have taken part in battalion competitions Alan Douglas Trophy where we came first, Spiritual we came 8th, 5 aside football at Carronvale still to take part in the Swimming, Maze marching and Sports. The section attended the same services as the Anchor boys, will be taking part in the Turnabout service as it is 100 years of the Life Boys. For their Christmas outing the boys went to Air Space in East Kilbride. The boys also went to Stirling Astronomical society where we saw the Wallace monument upside down and the boys enjoyed a short talk about the universe. The boys will be going to Girvan for their annual camp the first weekend in June.
Three members of the staff Katy Young, Sharon Fenny and Bobby Kelly completed their youth training course and Katy did a First Aid course. Grant Kirkwood has completed the first stage of KGV1 course for officers at Carronvale and will complete the course in the summer.
Thank you to all the officers for all their help and support this year.
A special thanks to Colin Meek for all the help and work he has done for the company for the past 30 odd years we wish him well in the future.
Ernie Firth
Company Section
The Company Section has three to four boys attending each week. Due to the low numbers we have been limited in the number of Battalion and National competitions that we can enter. However, we have continued with our badgework which has included financial planning, mock job interviews, drill, CPR, and various other topics. We have one boy working towards his Presidents Badge and another towards his Queen's Badge. We had a Christmas outing to Airspace in East Kilbride, which the boys thoroughly enjoyed. We are now thinking about this year's Parents Night.
Thanks to the boys for attending and parents for their support. Thanks also to our officers John Fenney, Sharon Fenney and Grant Kirkwood. Special thanks to Joanne Rankine who has been assisting our Queen's Badge boy.
Alan Hobbs
Officer in Charge.