Boys' Brigade

All section start back after the school summer holidays -
Anchor boys (P1 – P3) starts back on Tuesday 27th of August 2019 at 6.15pm – 7.45pm
Junior Section (P4 – P6) starts back on Friday 30th of August 2019 at 6.30pm – 8.30pm
Company Section (P7 – S6) Starts back on Friday 30th of August 2019 at 6.30pm – 8.30pm
If you know of any boys in these age groups could you please encourage them to come along and try the Boys' Brigade.
John Fenney (Captain)
((john.fenney72@outlook.com or 07799145121).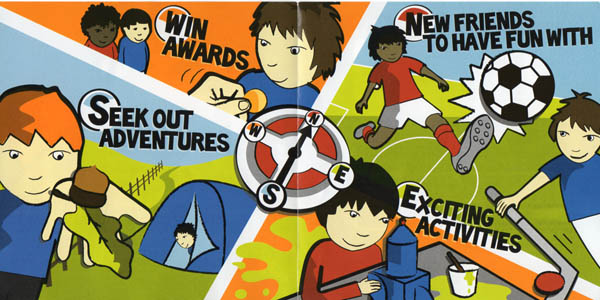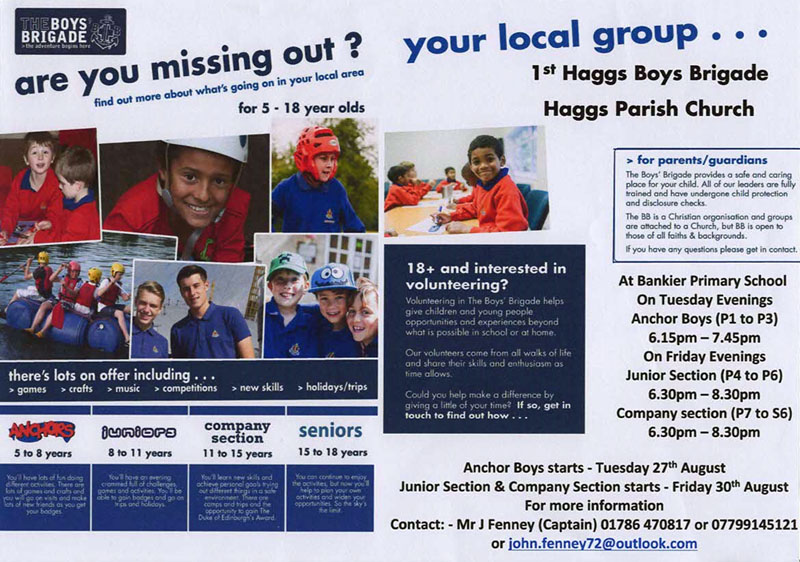 1st Haggs Boys Brigade
Boys Brigade Anchor Boys
We are having another great year so far with a total of 17 boys, with great attendance each week. This is made up of 2 primary ones, 9 primary twos and 6 primary threes. This year we made the choice to split the boys up into two groups. We always start the night together playing one game before one group going through to the community wing for craft and snack while the others play games then swapping over half way through the night. Some of our favourite games include dodge ball, toilet tig, and they always enjoy when we set up an obstacle course for them or let them pick a game. We often get the boys back together at the end of the night for one game before picking a boy to finish the night with our prayer.
During this year we have visited Zoo lab for Halloween, we had our Christmas night out to Laser Quest, in January we attended the annual anchor boy's fun day and on Friday 22nd February we will be attending a one-off fun night at the new soft play at the Mariner Centre.
Including myself and the other officer Bobby Kelly, we have two helpers Elaine Cameron and Claire Sherry. We also have a few young helpers, Rebecca Cameron (14), Maiya Sherry (12), Kyle Kelly (12) and Daniel Young (9) who are a great help each week with setting games up for us or helping with snack and giving some of the boys a little extra help during craft.
Katy Duncan
Officer in Charge of Anchor Boys
1st Haggs Boys Brigade Junior Section Report
The Junior Section has 9 boys made up with primary 4, 5 & 6 boys with average of 8 boys turning up every week doing Figure marching, Badge work and playing games. We would like to thank Jack & Elizabeth Dunn for coming to do some astronomy with the boys. We entered the Alan Douglas, spiritual and Five a side football competitions. We are still to enter the Figure Marching & sports competitions. For Halloween we went back to zoolab in Larbert with the Anchor Boys & company section all the boys dressed up in fancy dress with prizes for the best dressed, they all enjoyed touching & holding a snake, a lizard, a Tarantula spider and other animals. Our Christmas trip we went to indoor laser tag centre in Cumbernauld with Anchor Boys, Company Section & Officers all the boys & Officers had a good time shooting each other with a laser gun. We are still to attend the year's turnaabout at Falkirk town hall on Friday 1st march. We are now planning for Parent Night which is Saturday 11th May. We are also planning a sponsored event in April to raise company funds. Our session will finish with our annual weekend camp at Girvan in the first weekend in June. Thanks to all the Officers and parents for their help and support.
John Fenney
Captain
1st Haggs Company Section
This year has proven to be another very challenging year for the Company Section. We have struggled to maintain our numbers of boys.
We have tried to vary the program that we offer the boys having merged to run at the same time as the Junior Section. This was to allow us to offer more team games for the boys which worked to a greater degree.
This year we have attended Church for our Opening Parade, Remembrance, and Christmas services and a big thanks to the boys who attended.
Jason Marr has been working on his Queen's Badge and has completed his book and will be attending his completion course.
A big thank you to the officers and boys for their help over the year.
Alan Hobbs, Officer in Charge of Company Section.
CAPTAINS REPORT
The Anchors are going strong with a good number of boys attending. It's been a hard year with low number of boys in the Junior & Company Sections. With only 9 boys in the junior section we still managed to enter all of the Competitions in the Battalion so far with some still to run. They will finish the session with the annual weekend camp at Girvan on the first weekend of June. All Sections attended Church for our Opening Parade, Remembrance, and Christmas services. Our Annual display and Parents evening will be Saturday 11th May at Bankier Primary School & our closing Parade on Sunday 12th May at Haggs Parish Church and we will hopefully award Jason Marr with his Queens Badge.
I would like to thank Officers Katy Duncan, Sharon Fenney, Bobby Kelly, Alan Hobbs and Grant Kirkwood and Helpers Elaine Cameron & Claire Sherry and Parents for all their help & support over the year we wouldn't have a company without you all.
Do you know of any boys who would like to joint our company or any adults (Male or Female) who would like to help please contact myself (johnfenney1@aol.com or 07799145121).
John Fenney Captain 1st Haggs Boys' Brigade